iPhones may have seen a decline in overall sales this year but they've certainly still got a hold on the US population. A report by the Kantar Worldpanel shows that the three-month period that ended November 2016, saw the iPhone 6S, 7 and 7 Plus capture 31.3% of the smartphone market. Samsung's share accounted for 28.9%, a number which would've been much higher if not for the terrible Note 7 fiasco. However, the closeness to the iPhone percentage shows how well the brand is still held in regard by consumers.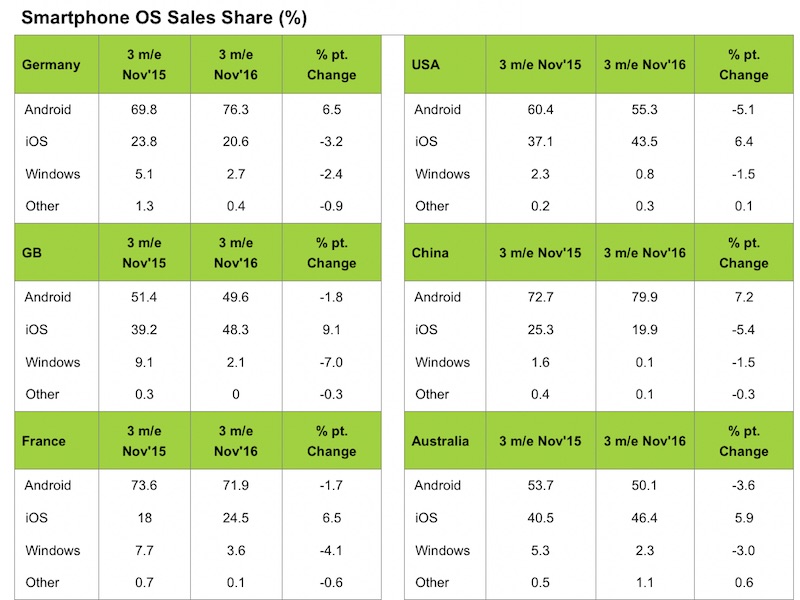 iOS has seen a sharp rise in the same 3-month period. A growth of 6.4 percent was registered while Android usage shrunk by 5.1 percent. Their respective percentages still sit at 43.5, and 55.3 percent though. Yet, according to Kantar, this is the sixth consecutive dive in usage statistics for Android.
iOS has seen a great growth in many regions around the world. It saw its biggest growth in Great Britain where it rose by 9.1 percent, bringing its usage stats to 48.3%. France, Germany, Italy and Spain all saw Android and iOS growth in the September to November period due to the decline of Windows according to Kantar.
"In the EU5 countries, Android accounted for 72.4% of smartphone sales during this period, with iOS at 24.6%, a strong year-on-year uptick for both ecosystems as Windows' share declined to 2.8%.

For Android, this represented a 2.8 percentage point decline from the October period, while strong sales of iPhone 7 boosted iOS," explained Dominic Sunnebo, Business Unit Director for Kantar Worldpanel ComTech Europe. "The holiday period is always strong for Apple, but it remains to be seen if demand for the latest devices will level out in the first quarter of 2017."
China was a big battleground which Android still has in its pocket. It controls 79.9% of the market there compared to iOS' measly 19.9%. Local brands dominate the market. But despite that, iOS usage increased by 2.8% due to the launch of the iPhone 7 which became a bestseller in the Urban centres.
Apple saw a decline in profits for the first time in many years this year. They shipped 30 million fewer iPhone this year than the last and though this may be cause for alarm for many out there. Apple is still one of the two dominant forces on the planet when it comes to smartphones. A slightly weaker quarter or year than before doesn't mean the company is in peril. 2017 is the tenth anniversary of the iPhone and it's sure to send sales in to overdrive.